My website is current.
I have NO pups right now

Check back 2nd week of August for updates & pictures.
I list when I have pups under each breed along with a price & pictures  Will have Shih Tzu's & Shih  poo pups soon. I am presently contacting repeat clients  but I will update with pictures of what I have available after that. 
if the pictures say SOLD- they are not available. The process of getting a pup from me is under the "About Us " tab or scroll to the bottom. My Puppies  are not just merchandise & I can't (won't) produce more than I feel comfortable with. My puppies were born under my watch & raised in my home- I am not a broker & do not sell to pet stores. 
Text is the easiest way to reach me. I live on 40 acres & usually not near my phone. I try to return inquiries but please be specific what breed you are interested in – not "do you have puppies". I have posted all the info I have on each breed.  719-332-1939 Text's are appreciated- but not those asking when I will have pups in the future- I don't count on anything until after they are born. At 6-8 weeks, I usually post what is available- with pictures.  You can make a deposit then and visit when they are 7-8 weeks or older.
Breeders that are State licensed cannot meet you anywhere but our homes. You cannot bring your other dogs to meet the pups. They are at high risk until they have had all their shots. It is best for them to meet the pup in your home when you get them. Put a gate up and let them sniff each other & wait until they are excited to meet each each other. Then monitor them and their time together. Puppies need to learn their social skills with other dogs so they can get along with & play well with other. Puppies can be annoying to other dogs until they learn these social skills.
My email is kathrynmichaels@hotmail.com
I can schedule a phone meeting time once you have texted or emailed. I do not answer calls when I am with clients or in the morning when I am busy doing chores.
All of my Pups are Low shed to Non Shed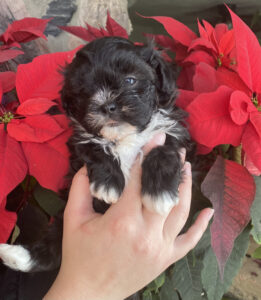 The parents are chosen to produce the best hybrids that are good for people with allergies, make wonderful family pets & are non-shedding. They are sold as pets only so I do not give papers.


2nd Generation Hybrids
This type of breeding can lead to unpredictable results unless the breeder knows what they are doing and there is no inbreeding. You might lose the health benefits of the 1st generation or crossback breedings if it isn't bred correctly. I breed multi generational pups only if the parents are of a totally different lineage. I have great success with my goldendoodles. They are smaller than standard size with all the wonderful characteristics of a golden/poodle mixture. Not looking for a 65+ pound  Goldendoodle?  These may be just what you want. 30-45 pounds on average. They will be a mid size dog.  Beautiful color! They are in high demand and go quickly. None until Fall or winter. Moms are on a break😊