Shih Poo –  Shih-tzu / Poodle hybrid

These little darlings are soooooooooooo cute & smart
These non-shedding hypoallergenic breeds are very good with other dogs and they definitely love their family. These pups are friendly, self-confident, loyal, energetic, brave, intelligent, and playful. They are also great with kids. The Shih-Poo has a round face with round eyes and a long nose. They have hanging ears and a triangular muzzle. A Shih-Poo's coat can come in a variety of colors including tan, black, apricot, cream, sable, white, red, and chocolate.
Shih-Poos are known to be a quiet and obedient breed. Although its bark can be louder than A Shih Tzu, they are not typically "yappers". Due to their size, Shih-Poos are typically known to be shy towards strangers until they know them. They are also fairly easy to train due to their intelligent and alert nature. Shih-Poos are also loyal, loving, and affectionate.
Nonshedding and best personality
Will stay small & they LOVE everyone!
Pups are $1600
1 male & 1 female
Tjis is a first generation breeding with a poodle mom & a Shih Tzu dad. The legs tend to be a bit longer so these are perfect if you want to go hiking or walking with them. Their legs tend to be very short when I have a Shih Tzu mom- they prefer short walks and to be carried or ride in a stroller😊 Deposit is $300.
Girl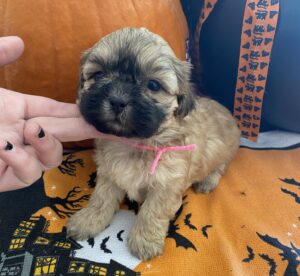 Boy- orange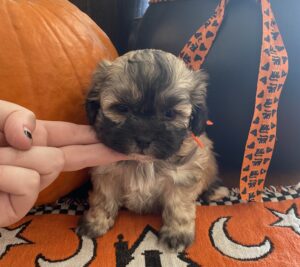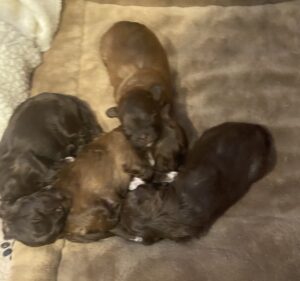 Another first generation Shih poo litter born September 30th. They are a dark brown & just opened their eyes. . 1 girl & 3 boys. No other Shih poo's born yet. These will be $1600 as well.